Story
Dyslexia Intervention in an Age of Online Education; One Teacher's Journey
20.07.2021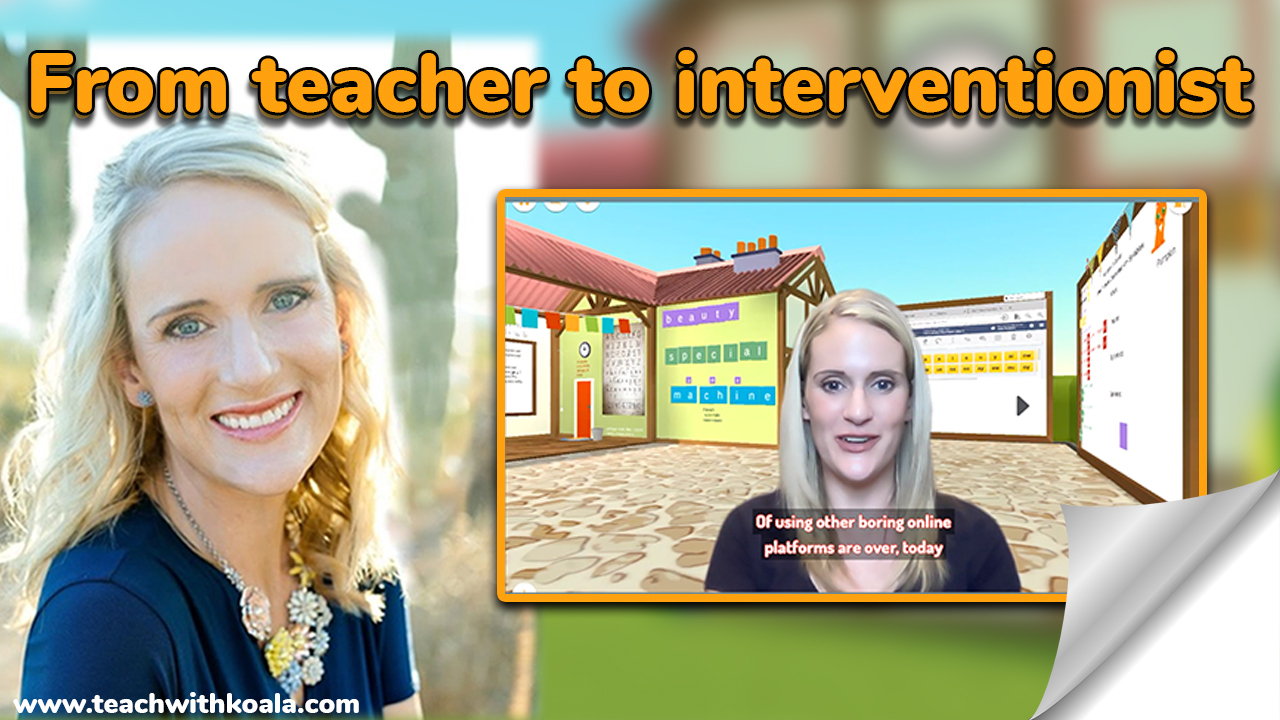 Part 1 of 3 - From Teacher to Interventionist
They say teachers run in families and I am proof. My grandmother, Margaret Seale started teaching in 1933 at Bowers School in Indiana. My mother, also a teacher, taught for 14 years in the small farming community, St. Paul, Oregon. I have cousins who teach as well. It's a family trait to be sure.
As a young child, one of my favorite imaginary games was to play "teacher". At the time, my grandmother lived directly behind us, so I was lucky to have a willing "student" to participate in my game. I am embarrassed to admit a lot of this game included me telling my grandma to go into the closet for "misbehavior". She acquiesced, much to my present-day horror.
Fast forward to 1999, I graduated college with a BA in Psychology and Communications. Like many new graduates, I still did not know what I wanted to be when I "grew up". I knew that I had a love of learning and would always seek ways to satisfy that desire. After one year working as a paraprofessional in special education, I decided to get my MA in Teaching. I chose to focus on upper elementary and middle school education. I did not want the responsibility of teaching little kids to read! Oh, the irony!
I spent the first year post-graduation teaching 5th grade in a modular classroom with a budget of $50. I only left that position because my college sweetheart of four years asked me to marry him and that included leaving Oregon and heading to Colorado for his continuing graduate school.
Our first year in Colorado, I was a substitute teacher. I was fortunate enough to land a long-term substitute position at an elite private school which turned into a full-time position the following year. At this school, I was blessed with amazing professional development and superb teacher support. Yet, like any new teacher, I was doing whatever I could to keep my head above water. With the help of two very experienced grade-level teammates, I thrived. Or perhaps, survived, is a better descriptor.
Little did I know that during those years at the school in Colorado, the seed was planted that would impact my true calling in the field of education. One ongoing professional training we received was from Judi Dodson, an educational expert in many areas including being a national trainer for the LETRS program. Judi taught us about explicitly teaching reading and spelling and equipped us to help struggling readers and writers. Yet, at the time, even as I implemented these strategies and did my best to support our on-site tutor, I was clueless about identifying dyslexia.
Unfortunately, I was only able to stay at the school in Colorado for four years as my husband's next stage of training took us to Minnesota. By then I had my first child, and now that my husband would be making at least a meager wage, I decided to stay home with our son.
Fast forward three years, and we moved back to my home state of Oregon. Two young kids and another on the way, I was staying at home, teaching my kids early literacy skills and math for my son, whose school could not teach him at the higher level of learning he required. This helped quell the restlessness I felt and fulfilled the teacher within me. That said, teaching your children is no easy task. Little did I know what lay ahead of me; yet in retrospect, I can see these were more seeds planted for my future. The excellent professional development in Colorado, the need to supplement my own children's learning, and the desire to teach them to read starting at home when they were so enthralled with books.
When the day came and all three of my kids were in school full day, I was restless. I did not know "what I wanted to be when I grew up." If I am honest, the private school teaching experience and the poor experience my son received at our public school did not inspire me to head back to teaching. The red tape of school policy, the overcrowded classrooms, and the rigor of being responsible for an entire class of students in addition to being available for my kids left me less than enthused about returning to teaching.
My husband pointed out it was my calling, my gift. He suggested tutoring. NO WAY! The word tutoring conjured up spending a lot of money on various curriculums, helping students with a subject matter until they caught up, and an endless series of unknown needs being thrown at me. The deciding factor was tutoring was an after-school job, and I wanted to be available for our kids. I did not want to send them to after-school care. We were fortunate enough that I didn't need to work. Yet, I was so restless.
As a person of faith, and not being someone who makes resolutions at the end of 2014, I simply prayed, "Tell me what to do".
It was like lightning. I was suddenly thrust back to my days in Colorado and remembering Judi Dodson and the pieces all started to come together. My favorite part of teaching was the relationships with the kids. The one-on-one time, and the building of rapport and community; I wanted to do something that made a lasting impact and Judi Dodson's teachings were filling my mind as if renewed.
Admittedly, learning that students I had back then, had since been diagnosed with dyslexia was a big "ouch". How was it that I had learned so much about learning struggles and not put two and two together? How had I let students slip through my class without seeing dyslexia?
I immediately knew what I needed to do; I started to research dyslexia intervention programs. I contacted the tutor at the Colorado school to find out what she used for intervention. I remember her giving me guidance on how to support those students but now I needed to know and understand better.
I am often asked if I became an interventionist because one of my kids has dyslexia. I wish I could say that was true. It wasn't until she was in third grade, and I had been taking post-graduate courses in dyslexia intervention and screening, that I realized she was not only gifted but also dyslexic. We call these students "Twice Exceptional" or "Stealth Dyslexics" because the presence of gifted level IQ with a learning disability allows them to fly under the radar much longer than someone who does not present high intelligence. I was kind of embarrassed. I felt a bit like a failure. Here I was helping students by using one-on-one intensive intervention and did not notice the signs my own child was exhibiting starting in kindergarten, which are often indicative of a learning issue. Anxiety, sleepiness at school, emotional breakdowns every day after school were signs. Her grades were fine. She was reading well above grade level. Nothing to worry about. But when I tested her, she showed signs of orthographic dyslexia. Her phonological skills were average to above average, but her spelling, the orthographic skills, were not there. I sent her to a neuropsychologist who specialized in dyslexia and it was confirmed that although she is intellectually gifted, she has dyslexia. Ouch again.
I could have dwelled on my failure to be so enthusiastic about helping others, learning to quickly identify the signs and symptoms, and even achieve the status of "highly qualified screener" after coursework through the University of San Diego, but miss my own child's struggle. Instead, I began the hardest journey in my teaching career; teaching my daughter to spell and write correctly. Many dyslexia interventionists are not first teachers, but parents who had to help their own kids and then discovered a passion for helping others. I just happened to get to this point in the reverse order. I have no doubt it was providence; the way I went from classroom teacher to parent, to an interventionist, to parent-interventionist.
---
Share this article