Story
Dyslexia Intervention in an Age of Online Education; One Teacher's Journey
31.07.2021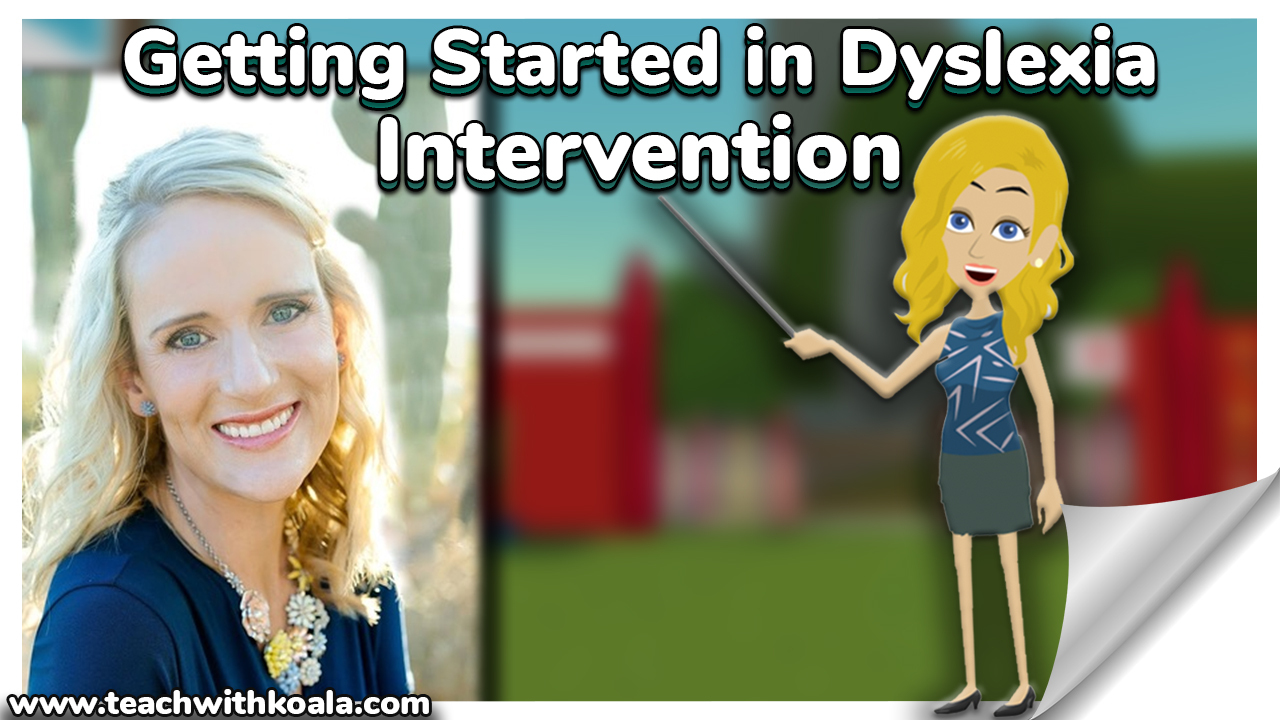 Part 2 of 3 - Getting Started in Dyslexia Intervention
Let's Define "Tutoring" Versus "Intervention"
The question many people ask me is "How did you start your tutoring business?" Before I share that part of my journey, I think it's important to distinguish the perception of "tutoring" versus "intervention".
The term "tutoring" conjures the idea of temporary help to get caught up, test preparation help, or assistance with homework or school assignments.
Although those who specialize in dyslexia intervention, call themselves tutors, the title does not accurately reflect our roles. Some use the word "therapist" or "interventionist" and there is controversy over what we should call ourselves based on level of training, experience, and which certifications, if any, that we have. I'll just keep it short; because there are no clear definitions and exact guidelines for titles in this field, I always tell parents to do their due diligence and find out a tutor's background and training. You can click here to see a video I created that helps define the role of a dyslexia tutor. It is helpful for clients to watch and tutors may embed this video on their websites to help define what they do as a tutor.
I am certainly not an expert in the best training programs or the top-notch tutor business classes, but I can share my experiences and recommendations for anyone pursuing dyslexia tutoring.
There are a variety of programs available to help those with dyslexia learn to read and spell correctly. In reality, everyone should learn to read and spell in these very explicit teaching approaches. Then perhaps we would not have such a large percentage of 4th and 8th graders not reading proficiently (see the NAEP Reading Results https://www.nationsreportcard.gov/reading/nation/achievement/?grade=4).
Intervention Approaches Used
Orton-Gillingham (OG); Feel free to google the history of this methodology. The basic premise of an OG approach involves simultaneous, multisensory, explicit, sequential teaching of language. There are a variety of programs that use an OG approach or there are OG tutors who do not use a particular self-contained program.
Structured Word Inquiry (SWI); this approach is gaining traction but unfortunately, there seems to be a rift in the community when it comes to using one (OG) or the other (SWI); I use both. Admittedly, I need more training in SWI but use it to the level I feel comfortable with while still considering myself an OG-based interventionist.
Watch out for any program that sells itself by making promises of a "cure", providing a guarantee of a specific outcome or timeframe. Also, any program that defines dyslexia as a vision or medical problem should be avoided. Dyslexia intervention is a marathon, not a race.
Where Do You Get Training?
There are many ways to get training in OG; a great place to refer to is the Orton Gillingham Accredited Training page: https://www.ortonacademy.org/accreditation/aogpe-accredited-programs/
That said, I know many interventionists who started off going through an accredited program and decided later to use a program like Barton Reading & Spelling System©. There are many programs like Barton that use an OG approach and some have their own certifications. The truth be told, I do not feel it's necessary to scaffold which is the best path. The best path is the one that a person feels they gain the skills and knowledge to be able to get out into the world and start offering help.
Other institutions that have programs that teach advanced literacy methodologies including the following:
Orton-Gillingham Online Academy
The Center for Effective Reading Instruction
The Institute for Multisensory Instruction
Additional training opportunities may be found:
This is by no means an exhaustive list and other resources vary by state and country.
I decided to use Barton and also took additional coursework on dyslexia, screening, and advocacy through the University of San Diego and the Dyslexia Training Institute. There are a variety of classes available online to get one started on becoming knowledgeable about dyslexia, intervention, and the science of reading.
I've also taken coursework in SWI but do not feel like I have enough experience to speak to the programs that teach this approach. The Dyslexia Training Institute offers some coursework and has resources for additional training as well.
The Business Side of Tutoring (What No Tutor Truly Enjoys)
Of course on the journey to starting tutoring, there is the need to understand how to start a business. Ugh. Not my idea of fun. However, it was necessary to get going. I would like to add here that you can save yourself a lot of stress and unnecessary "learning as you fail" pitfalls by taking basic courses in starting a tutoring business.
Resources for starting a tutoring business:
It's important to note that every state is different when it comes to setting up a business, whether to be a sole proprietor or an LLC, it is worth the time and effort to learn about the business side of tutoring. My recommendations are by no means exhaustive or legal advice.
So what is the BEST place to learn? Reading books, course work and most certainly, seeking out other seasoned professionals. The bottom line is this, you will have to work hard. I have seen many people join tutoring groups, ready to hit the road, but have an expectation that others should provide them with all of the things they have learned and use for successful businesses. The teaching profession is full of kind-hearted and very giving individuals, but to expect others to hand over all of their years of refined tutoring contracts, agreements and policies is not a realistic expectation.
Even if you do find someone who will share all of their business documents and policies, they likely won't work for you as is. All tutors have various policies and refine them based on experiences and even change them based on their location and who they serve.
Aside from reading, taking coursework, and learning through experiences (both bad and good) the most important thing I've learned is to set boundaries. This means both with my business policies and when serving individual clients. By nature, I have found teachers, tutors, and interventionists to be very sacrificial and generous with time and resources. That said, is it any wonder burnout in teaching is so high?
Let's Talk About Burnout
I speak from personal burnout experience. When I started my business, I lived in Oregon and was fortunate enough to work at my kids' school. I was contracted by the families whose kids attended that school. It was an ideal situation; the families no longer pulled their kids out for tutoring off-campus and I was able to work during school hours. That said, I took on too many students and due to the intensive nature of dyslexia intervention I found after just three years I was burning out FAST! So setting boundaries and sticking to policies is important not only for clients but so you sustain a business doing something you love.
Be Honest and Know Your Limitations-A Personal Story
One more thing I believe it is vital to point out is to know your professional capacity. Specifically recognizing when you are not the best person to help a particular student. There are so many reasons why this situation occurs but I'll share one example from my career. I had a first-grade student who I worked with for a year and we made absolutely no progress. Zero. Zilch. I pulled out every trick, every piece of knowledge I could find, every piece of advice from other professionals and still could not make progress with this student. I sat down with the student's parents and told them I am not the best person for their child. I did not believe I was serving this student's needs and had done everything I knew and strongly suggested they find someone equipped with different skills. They did not want to find someone else. I felt tremendous guilt. I felt inadequate. I felt defeated. They were insistent. So we agreed to a set time to continue, but if I still did not see adequate progress, I would need to release the student.
Sure enough, after the set time, I did not see adequate progress. I sat down and gave them pages (PAGES! I felt so horrible, like a failure!) of typed resources, suggestions of where to go next, etc. It was painful to admit I could not help this student. Yet, I also felt a sense of relief knowing this was the right thing to do. I can say at this point, several years later, I have learned so much more and now understand the pieces I was missing. I do not believe I could have gained that insight at that time. What this student needed was not yet widely discussed or practiced, but with diligence, continued professional development, and collaboration with other interventionists, I have gained so much more knowledge and understanding. The point? It's vital to keep learning; coursework, discussions with peers, experience, and practice are essential in this field.
---
Share this article